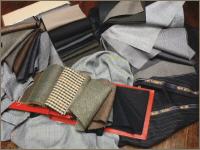 We can surprise you with our wide range of quality fabrics, which we can offer you from our extensive range, we offer 100% Wool in S130 Quality, Cashmere, Silk, Cotton, Linen, 60% Wool, and other fabrics in assorted combinations.
In the standard LINE T01 T07, this is our recommended lining in conjunction with our Standard Line of products, however it is possible to purchase Business Line lining to upgrade your product, and you can find the prices and options in our pricelist.
Within the Business Line range all our selection of fabrics and linings are available to you at no extra cost.
When you place your order we will automatically send you a Fabric Booklet which contains approximately 50 different fabrics and linings, after your first payment of 50%. Amongst them you will find claassical Pinstripes, Herringbone, Checked patterns and plain colours, suitable for the work place or casual wear.
In addition, to receiving your material booklet there will be a tape measure and a video to help you take your measurements correctly, and thus helping you with your ordering process.
Since we put a high value on quality, our made to measure clothes are manufactured only from bestquality materials.